Hi All,
Fascination finally got the best of me, I actually invested in a for real published paper model kit. The subject at hand is answer Models(no, it isn't a typo, that is how they do it) 1/200 scale IJN Akizuki destroyer. While I am sorely tempted to convert it to a styrene build like I did with the Digital Navy free download of the Admiralty Class Minesweeper that I discovered online, I figure I might as well see what this is all about, bite the bullet and do it to it.
For the details of my purchase, I found the Paper Models website, located in Chicago while I was researching information about the Akizuki. My preferred scale is 1/700, but the idea of having one in 1/200 was a deciding factor, that and the down right inexpensive price of $11.95. The last 1/700 styrene Akizuki I bought cost $17.95 so I figured I couldn't lose following the "Texas" theory of financial management, bigger and cheaper is always better.
It took all of 10 days from ordering off of their website using the old plastic to recieving it at my PO Box. It may have been a little quicker had it not been for Martin Luther King Day. It came in a heavy white paper fabric cover envelope sandwiched between two pieces of cardboard with the "DO NOT FOLD OR BEND" label in large print on both sides. But kudos to Paper Model Store for their good service. I recieved an 8 and 7/8's by 12 and 15/16's inch booklet consisting of 14 pages. The first two and last two are typical magazine page type material, the remaining ones are all a bit thicker material printed on one side and hold the parts of the model. These are roughly the same thickness of a yellow manilla file folder. The printing for the exterior parts is all in color with the remaining ones being black and white.
Being that this is a Polish publication, all the text is in Polish, one of the little hiccups that I will have to get over. If push comes to shove and I absolutely must have some portion translated, there is always Babelfish, Googles' handy free translation service. I have used it before to decipher Morskie Monographs and AJ Publications reference books in the past, and while some of the translations lacked grammar, they were able to be figured out.
From what I can see and have read in the past, the first thing to do is to remove the staples that bind the booklet together, which I suppose is akin to rippin' the plastic off of a kit box and opening it up.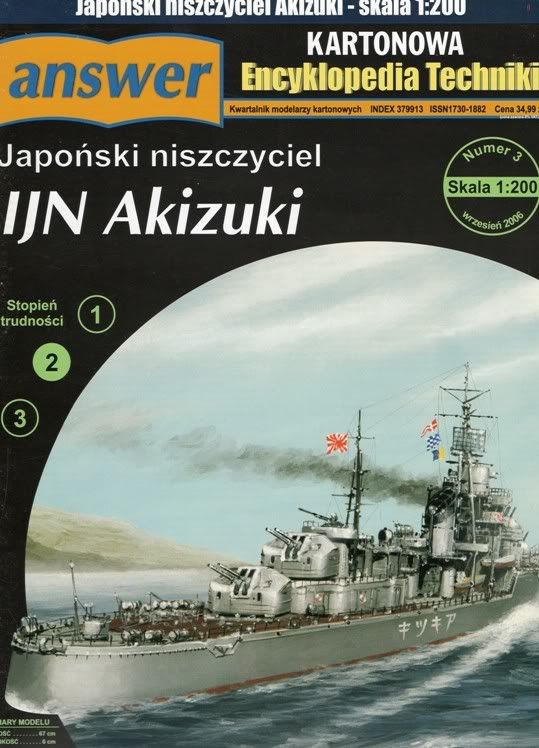 More to follow as I get further into my project.