Hi guys,
I want to do a special build as a Christmas present. My Father-in-law has a 1950 Chevy truck and I'd like to build a replica of it for him to display in his office.
I found the AMT kit, and even some photo etch, but as always it can never be just a simple OOB build... His truck is the deluxe cab version! HaHA!
For me that really means that I'll have to do some conversion to represent the extra side/rear corner windows as seen in this picture: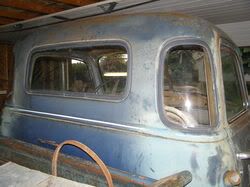 Have any of you seen or done this conversion before? If so, I'd love to see how it was done!
Thanks,
Ray