I was fortunate to have recently acquired a Trumpeter 20' container which I just finished tonight. I can now confirm that both the Italeri 20' container and the Trumpeter 20' have roughly the same overall measurements.
(The Italeri container is two scale inches taller.)
I was very concerned that my various LHS vehicles as well as my home built CHU might not work with the different containers I can now say that all vehicles appear to work just fine with either manufacture's product.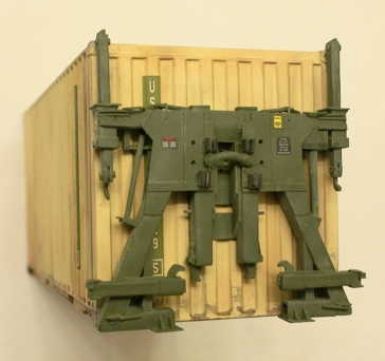 The Italeri product is on the left, the Trumpeter on the right. The following may be of interest to some: Given the slight differences in the corrugations of the various wall panels and the layout of the parts on the sprues, I can confirm that the two offerings are produced from totally different tooling.
Comments would be: The Italeri tooling offers somewhat larger gluing areas and the container goes together a bit more easily. On the other hand the Trumpeter offering includes the four ventilator details cast into the sidewalls. The Italeri container is missing these vents.
Finally, to Italeri's credit, their container comes with three different complete decal marking sets - US Army, US Marines and Italian Army. The Trumpeter offering comes
ONLY
with "China Shipping" decals.