On August 8, 1934, Helene Boucher take off to fly as soon as possible on a 3km circuit. Two pylons mark the each ends. With his blue Caudron marked with number 13, she beats internationnal reccord speed over 1000km on all cathegory at an average speed of 409.187km/h.
On August 11, 1934 she broke the world speed reccord and became the "quickest human of the world" at the speed of 445.028km/h.
She died at an early age of 26 on a test flight near Versailles when the machine crashed into the woods of Guyancourt.
Hélène Boucher La fiancée de l'air, Bernard Marck

The Kit JMGT 1/48 : Caudron C460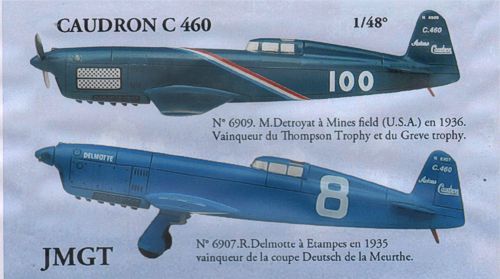 ....which I hope will become a C450.
Regards