Hi Paul
Thanks I might be tempted to do so, KV-III (sound good)
The snow is actually a test, its backing baking soda but you never get depth easily and some times it looks like a melted slush, so I was thinking to use late file on a piece polystyrol and use the filing as I read some where on Armorama, however,..it Takes ages to get enough.
So then I tried something new and much faster, "paper mache" using with toilet paper easily you can create depth and control it ( below is the test piece) a base for one of the previous builds. Once the paper mache is dry go over it with the baking soda slush and "voila" (i did make a mess off it on the base,..next time i will be more careful)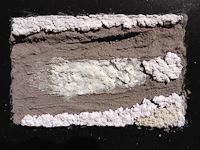 Baking soda in the middle, right lower corner the small area of polystyrol, above and below the toilet paper with not yet added baking soda on top.
Sascha(Ironowl)
This will be the base for one of mine hairspray white wash builts, try it it's easier than you think
http://i100.photobucket.com/albums/m14/scavengernl1/Models/T-70whitewash-11_zpsd8720bdd.jpg