I was going to wait a little while longer before I started this thread on my 1976 Chevrolet Bison stake truck that I am building for the Animals Campaign over on Armoramma so I had more progress to show; but since we are already close to the end of the month I figured no time like the present.
Here is the kit that I am starting with: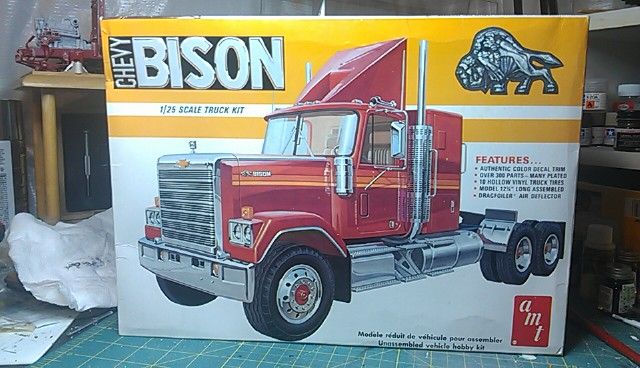 Yes, the venerable AMT Chevrolet Bison. The plan is to replace the 8V92 that comes in the kit with a 6V92T, shorten the hood to a 108" BBC from the kits 116" BBC, swap out the air ride suspension for the spring suspension from the AMT GMC Astro/95, then add the stake body from the AMT Ford C600 kit. I have had the Auslowe Detroit Diesel 6V92T kit kicking around for a while now, and I figured this would be perfect:
Oh, man, was I ever wrong! Ever since I started building this engine back on January 1st, it's been one step forward & two steps back! I'm going to toss the Auslowe engine idea, and replace it with a 6V92T from GW Trucks.
Hopefully more progress next month!
Jim