"The sound of bullets tearing through canvas, wood, and metal; the young pilot's heart thumps in his chest. That last burst missed his goggled helmet by mere inches. He desperately throws the control column left and right, presses the rudder bar with all his waning strength, but his attacker is in a far better machine and is far more experienced. The enemy stays doggedly on his tail, hurling more lead at his machine. As the fight gets lower and lower, he prays that his luck holds out. Tearing canvas, water pouring from the holed radiator, a stuttering engine and the smell of fuel indicate that his trusty steed is mortally wounded. The fight is over. Finding the nearest clearing, the young pilot throws the groaning machine to the earth. It rumbles along the rough ground, now under its own control. Knowing he is now a passenger along for the ride, the young pilot tightens his shoulder harness in preparation for the inevitable sudden stop. His craft lurches of the bank of a small river, it's shark-like nose ending its days unceremoniously dumped into the muddy water. The young pilot is dazed, but alive. What was terror now turns to anger with the release of the tension. He tears of his goggles, throws his harness off, and climbs onto the spine of his machine to take stock of his luck. As his victor flies over the scene, waggling his wings, the young pilot hurls his fist at the enemy; "You win this time", he screams. He may have been vanquished, but he has lived to fight another day".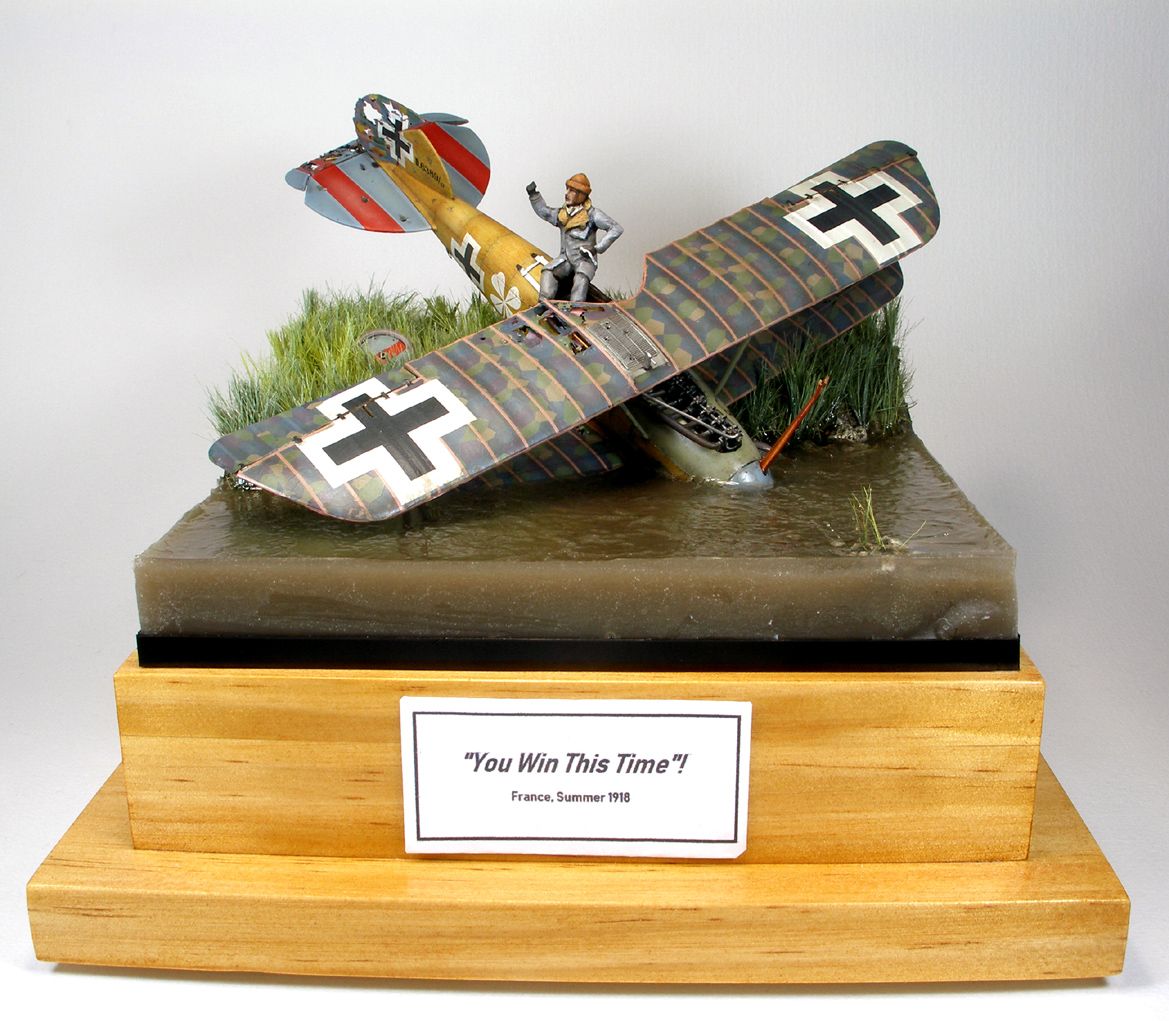 Hi all – I hope you don't mind the melodramatic start to the post! This rough idea is the back story behind my latest completion, a small crash diorama based on the 1/48 scale Eduard Albatros DVa. This is a project that I've had in mind since way back in 2006 when I first saw Stan Stokes' painting called "Gotcha":
I was also inspired by a similar scene that our own Jackflash had done (though Stephen's build was with a Fokker D.VII, more like the painting).
This was my first time at modelling terrain, and modelling water. I made plenty of mistakes (many of them are obvious) but it was a good learning experience.
The aircraft itself was modified to incorporate battle damage, in order to help tell some of the story.! The aircraft personal and unit markings are fictional, but broadly represent markings of the mid 1918 period. I included a four-leaf clover motif on the fuselage to help with the idea that the pilot's luck has held out. The pilot is a modified figure using various bits and pieces I had in the spares box. I gave him a set of goggles that he's holding in his left hand. I am definitely NOT a figure painter, as you can see
Progress pictures of all aspects of the build are in the following threads:
https://forum.ww1aircraftmodels.com/index.php?topic=10149.0
https://www.britmodeller.com/forums/index.php?/topic/235052386-vanquished/
Anyway, here are some more pictures: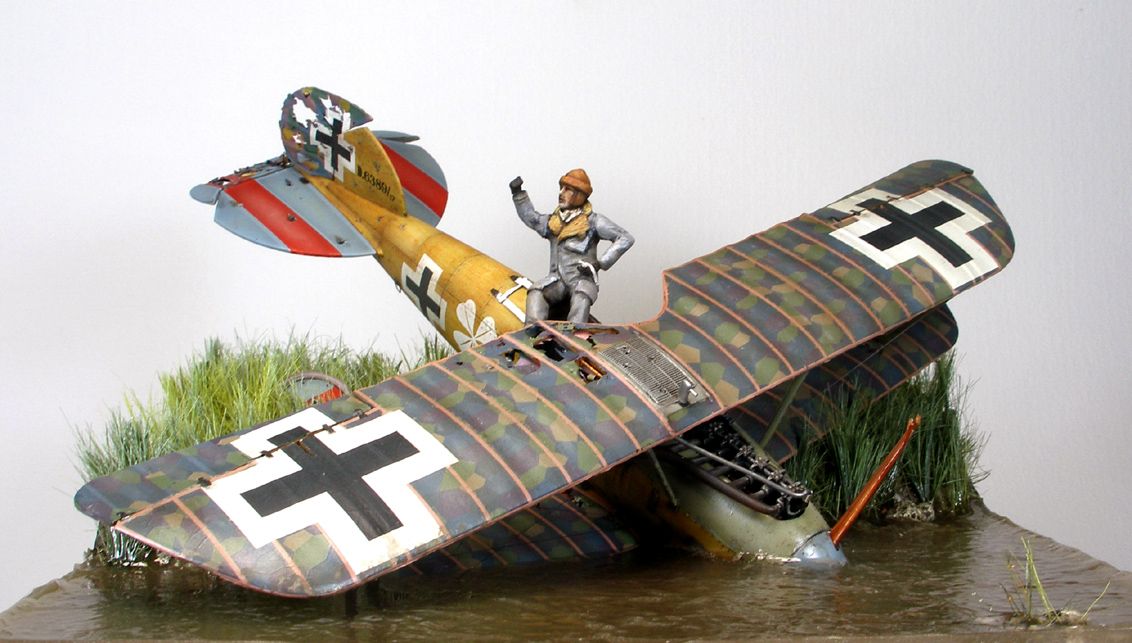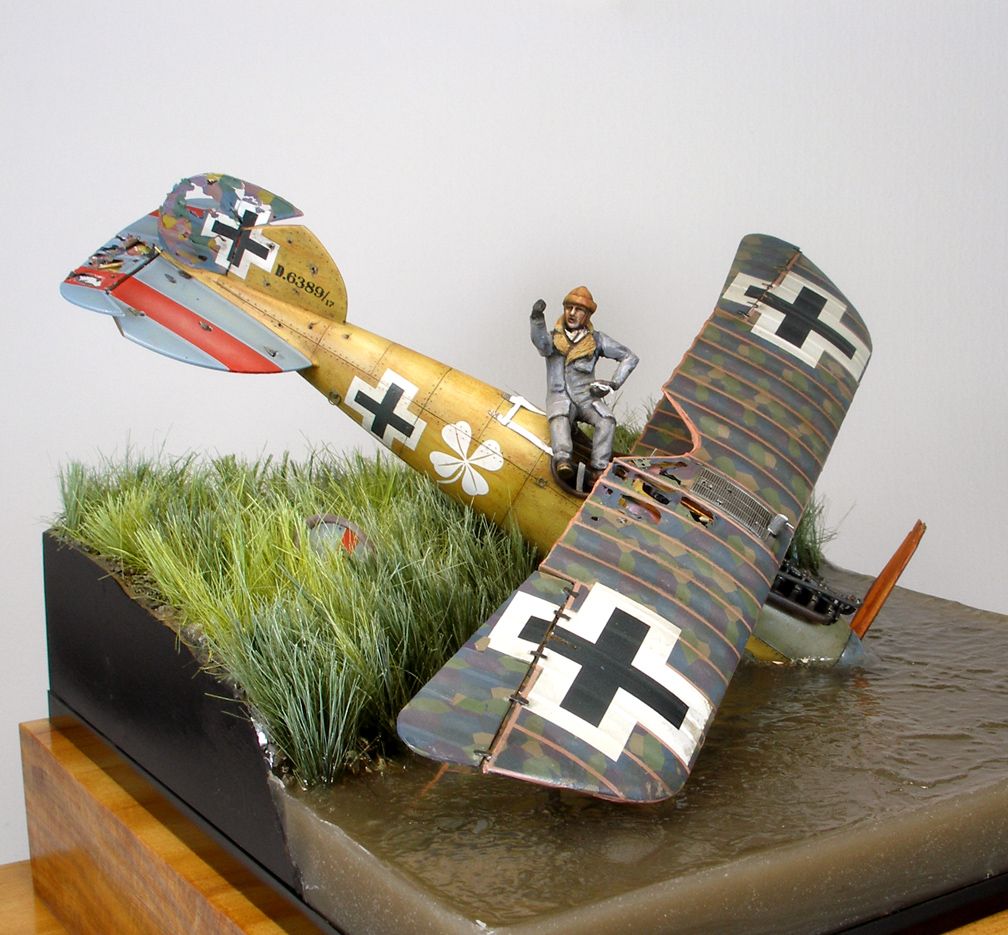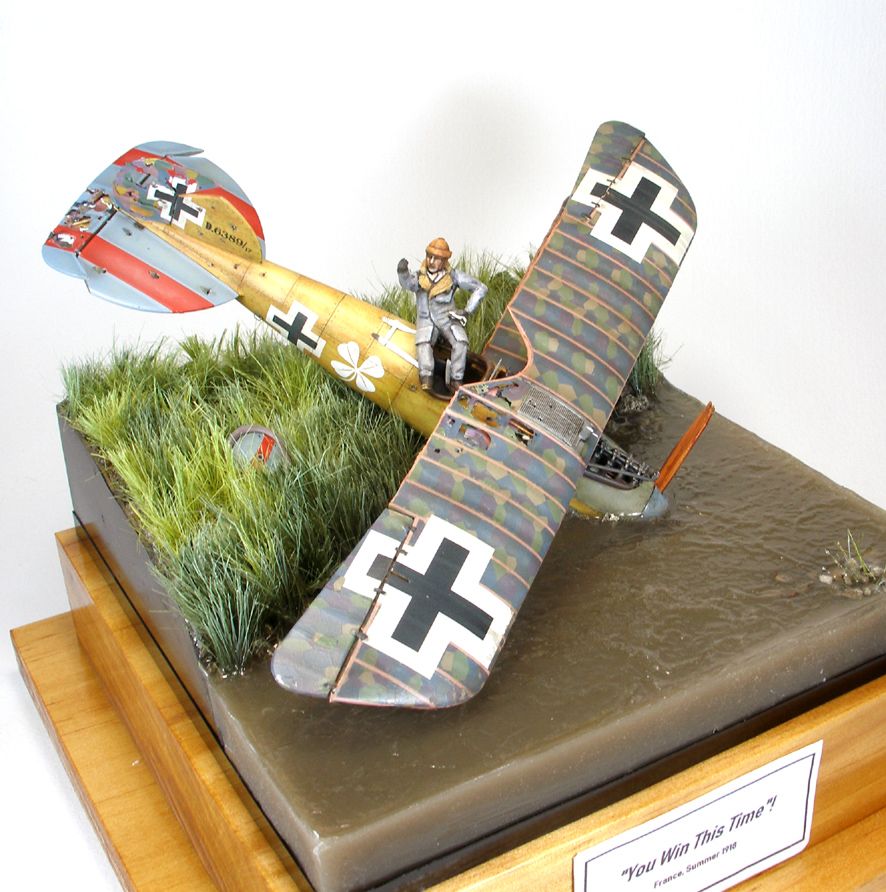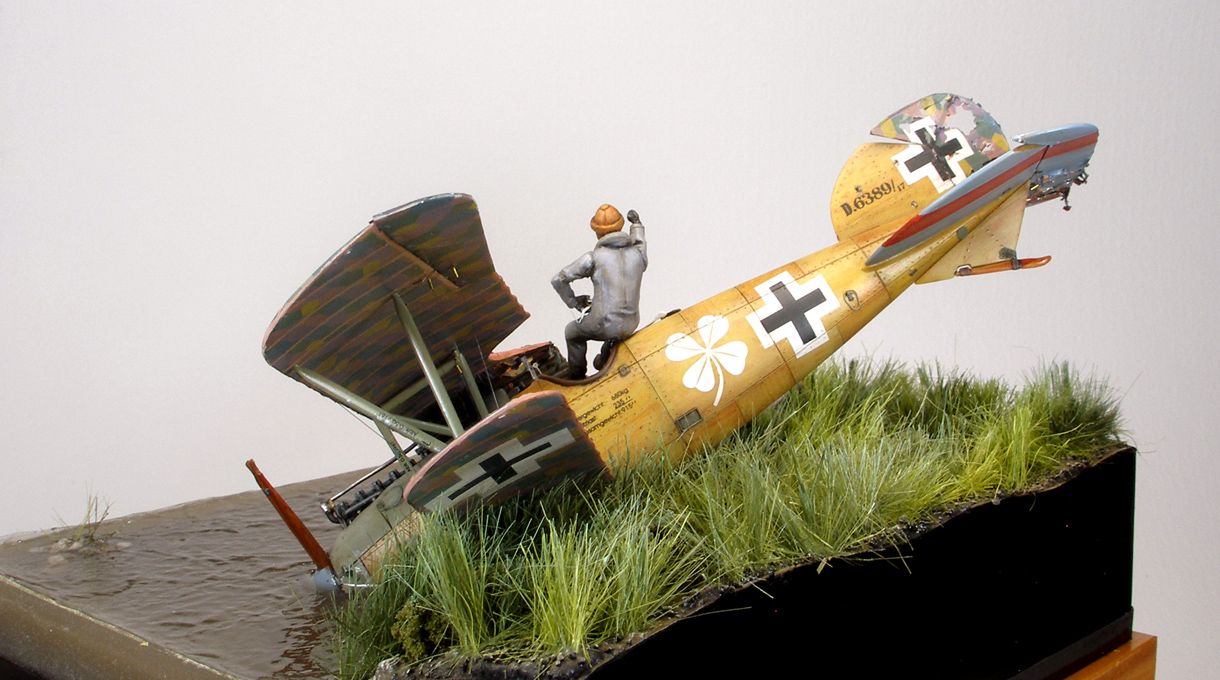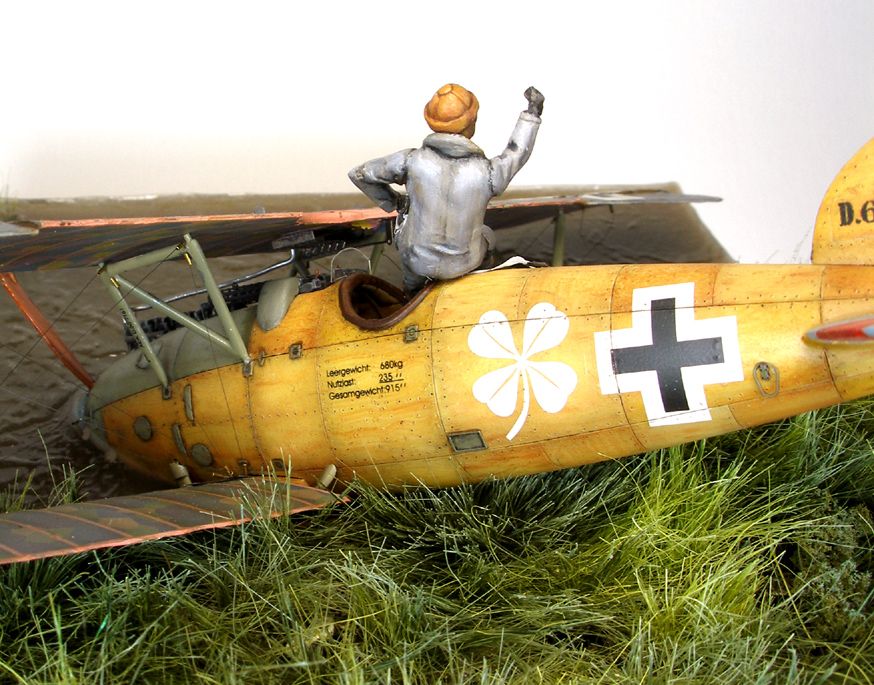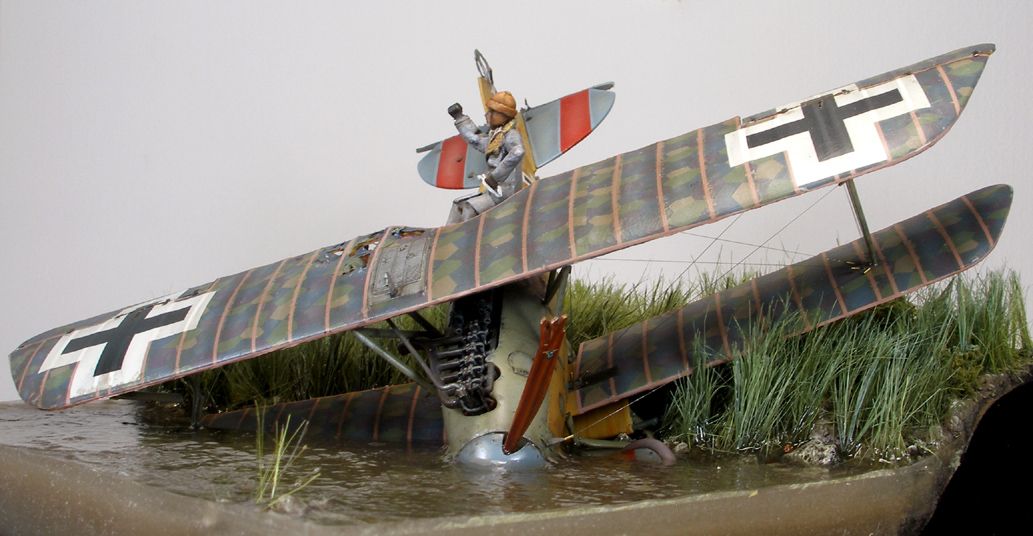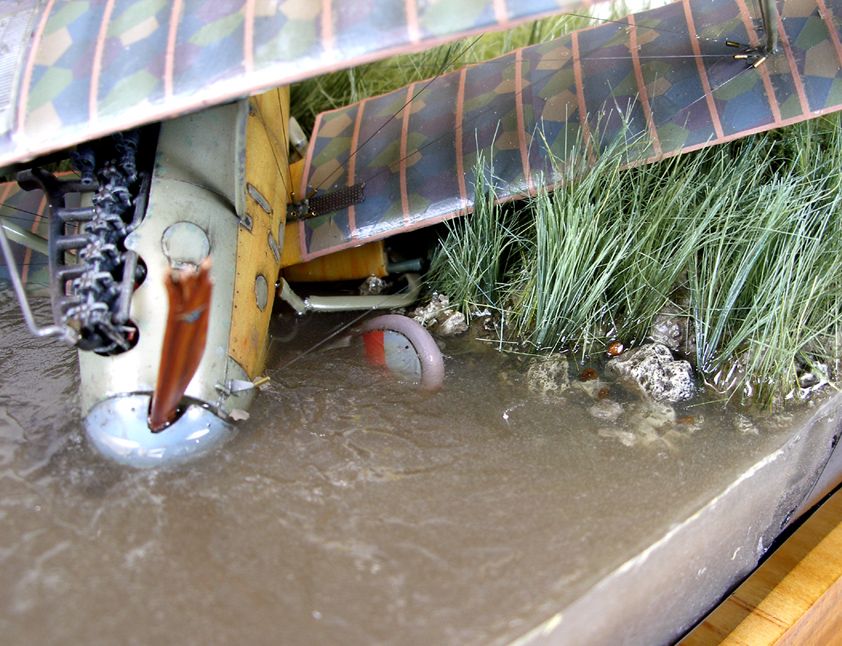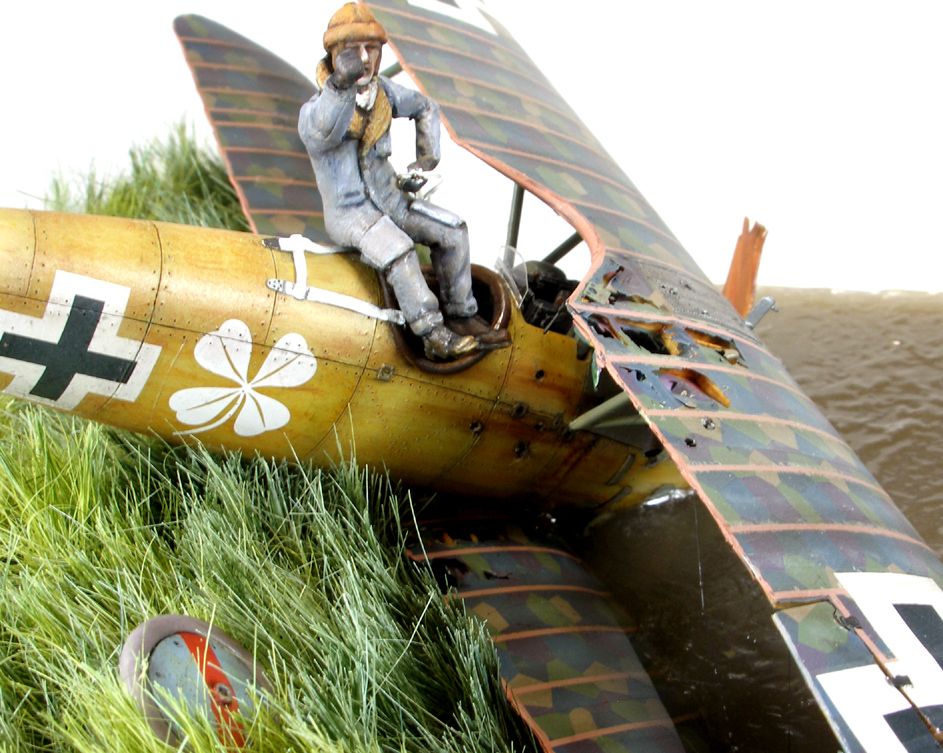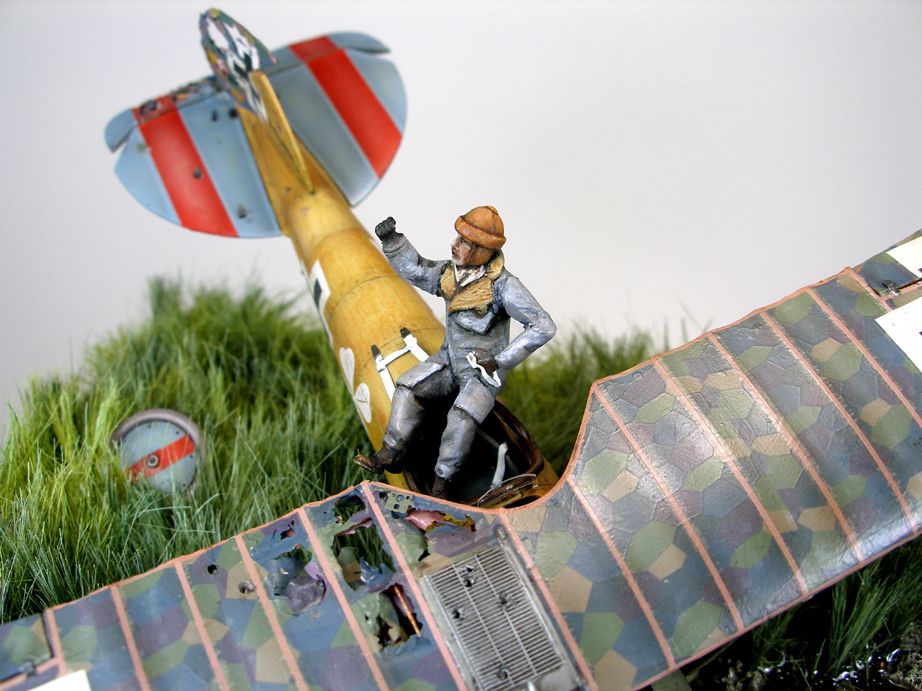 I welcome all feedback – as I said, this was my first time tackling terrain and water effects, so I'm sure there are plenty of tips out there that you all can give me.
Cheers!
BC